Chikugo Workshop
Our veteran technicians can provide you with custom product solutions.
Our factory in Chikugo specializes in the manufacture of complex glass equipment with unique specifications. Most of these products are order-made in response to our customers' needs.
Our veteran glass technicians, who have been certified through the National Trade Skill Test program, manufacture each individual item by hand. Individual common glass parts, which have been manufactured at the Miyama Factory using automated machinery, are assembled by hand at the Chikugo Factory by our technicians into finished products.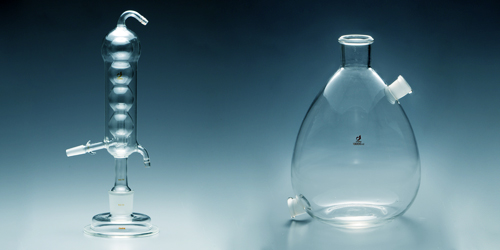 Mr. Shimokawa, Workshop Head Manager
Outline of Factory Operations
At the Chikugo Factory, we manufacture glass equipment for chemical analysis used in basic research at universities and medical institutions, and these products can be broadly categorized into two types: standard catalog products, and products order-made to customer specifications. Our expert skilled technicians manufacture all these products by hand, one at a time, all while maintaining consistently-high levels of quality. A large number of our employees are certified glass technicians who have passed the National Trade Skills Test.
The Working Environment at the Chikugo Workshop
Our employees have a full range of experience, with some in their 20s up to others in their 70s. The veteran technicians give regular guidance to junior members to pass on their knowledge and skills, elevating the overall talent base working in our factory. We encourage dialog and sharing of ideas and opinions, which leads to improvements and innovations in our work methods. This builds unity of purpose among all team members of the factory towards their work. Each time a company-wide event is held, almost all members are able to participate, and our workplace is notable for its lively and congenial atmosphere.
Features of the Chikugo Workshop
We manufacture almost all of the components of our catalog products in-house, allowing us to rapidly fulfill orders. As for graduation markings, we can apply them using etching or printing techniques, and these two methods allow for a wide variety of product configurations. As a facility with environmental ISO certification, one of our goals is to actively pursue ways to perform repairs for glass products, which helps promote the reduction of waste glass.
Quality
In addition to our ISO quality certification, some of our products have also been certified to display the JIS (Japan Industrial Standard) mark, demonstrating our capacity to supply products of consistently high quality. Furthermore, for products with mating glass pieces, precision surfacing for both the male and female fittings after gas processing is performed in-house, allowing us to provide consistent products compliant with surfacing standards. Final inspection and packaging work is performed by inspectors certified as quality control managers, and their goal is to prevent any defective products from leaving the workshop.
Employee Activities and Community Involvement
The factory grounds are maintained by all employees working together, and they also periodically clean the 400 meters of public road running alongside the factory in an environmental activities partnership with Chikugo City. To build company-wide communication, several events are held throughout the year, such as a cherry blossom-viewing gathering in April, barbecues, and year-end and new year's parties. They are popular events that almost all employees regularly attend.
Our Vision for the Future
We have developed internal education systems to nurture human resources and pass on skills and knowledge to new workers. Such efforts are necessary to continue stable, long-term production of chemical analysis glass equipment for the decades to come. We hope to further automate the manufacture of glass equipment parts so that our technicians can focus on assembly work. This will allow us to provide products at lower costs and increase our market share. We hope to strengthen our customer relationships by providing products high in demand and by offering even greater flexibility for our order-made products. We will continue to face the challenge of creating excellent, high-quality products quickly and at fair prices.