Shingu Workshop
Sheet Glass Processing Section
All of our hand-carved etching is carried out by expert technicians that make the most of new processing techniques in order to produce intricately hand-crafted items.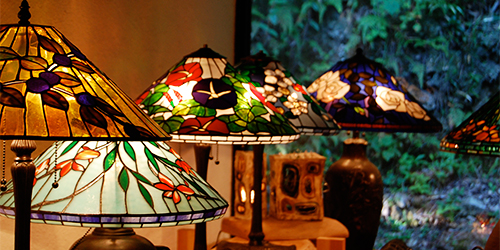 Mr. Hanada, Sheet Glass Processing Section Manager
Overview of Sheet Glass Operations
Among the different ways glass can be processed, our technicians are specialists in sheet glass surface processing.
We produce mainly decorative sheet glass for buildings. Our glass products are often used to decorate public halls, luxury shops, and lobbies of hotels and condominiums. Recently, decorative glass has also come to be used for doors of general residences and for washroom mirrors.
We also manufacture smaller products, such as signs for greeting guests at weddings or for celebrating the opening of a new building or shop. We even make commemorative plates inscribed with the handprint or footprint of a newborn baby.
Characteristics of Sheet Glass
After processing the glass with sandblasting or etching (which uses metal powder), we use chemical treatments to give the surface a smooth finish. Other companies use only sandblasting to process their glass, which makes the glass easier to become dirty as well as more difficult to clean. The chemical finishing we apply after blasting addresses these problems and gives the glass a clearer finish. Our chemical process is also notable in that it makes the glass stronger and less prone to cracking.
Quality
The sandblasting process is automated, allowing us to adjust the blasting force and duration of blasting for each piece. This allows us to produce consistent results regardless of the size or thickness of the glass. The chemicals we use are extremely sensitive to changes in air temperature, humidity, temperature in solution, and the temperature of the chemicals themselves, which all affect their corrosive reaction times. The way the chemicals react to the glass depends on its thickness and type (mirrored, tempered, etc.), which also affects the processing time. All these variables mean sandblasting machine settings must be tracked and adjusted to match the processing environment in order to finish products consistently year-round. Almost all of our products are made-to-order, but we keep data and records for all of the products we make so that they can be reproduced easily to fulfill additional orders.
Our Vision for the Future
We are looking forward to the future as we engage in the development of advanced glass etching techniques for the creation of highly-expressive glass products. We also want to challenge ourselves to incorporate more materials into our work, such as stainless steel and wood. We also want to actively pursue creating products for use in new fields such as sandblasted designs for vehicles and decorative glass for passenger ships. We feel it is our mission to strive towards meeting the needs of our customers by developing new technologies for making products that create relaxing and peaceful spaces.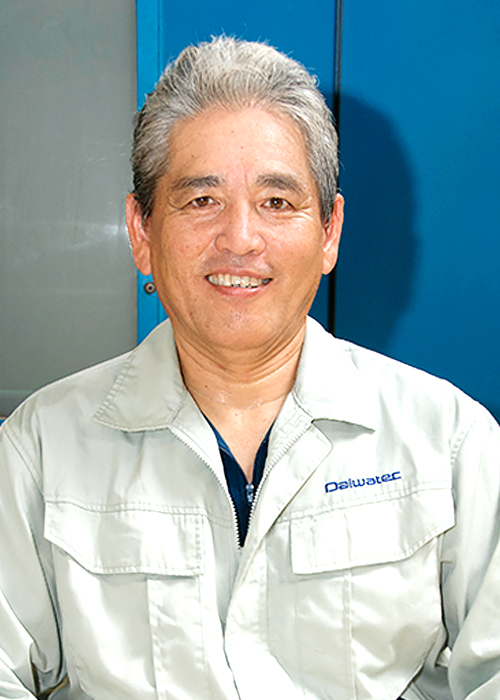 Chemical Manufacturing Section
In order to realize the full performance of stainless steel, any surface corrosion needs to be removed to restore the surface. Pickling plays an important role in this process, which requires efficient and safe methods.
Our staff is qualified and experienced in stainless steel pickling treatment, and we not only manufacture the necessary chemicals, but also continue to carry out research and improvements regarding various aspects of the pickling process.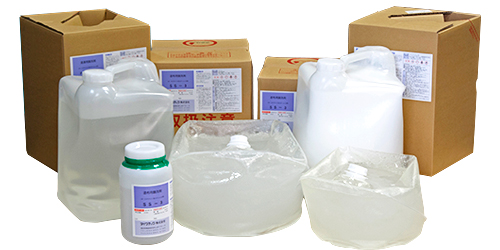 Mr. Yoshikawa, Chemical Manufacturing Section Manager
Overview of Our Chemicals
Stainless steel pickling is a process that quickly and efficiently removes heat tint and scale that occurs during welding and other processing that can damage the inherent performance of the metal. Our products generate a clean stainless steel surface so that the inherent properties of stainless steel can be realized.
We manufacture and sell three types of stainless steel pickling chemical products which can be used according to their method of application: brush application, spray application, and immersion soaking.
We also manufacture and sell chemical products for use before and after the pickling process that maximizes its effects.
Characteristics of Our Chemicals
[3 types of pickling agents for different applications]
Brush application

This gel-type pickling agent has a good spreadability like paint, and this consistency makes it ideal for brush-on applications.
A soaking bath is not necessary, making it an effective choice for stainless structures that cannot be immersed in pickling agent, including large objects, heavy objects, and fixed objects which are difficult to move such as anchors.
Since only brushed-on areas are pickled, this product can be used for partial, localized pickling applications.

Spray application

When brushing application is not feasible, and when the area of application is large, spray application is an effective method to fully cover workpieces quickly and efficiently.

Immersion soaking

By simply soaking objects in an immersion bath, they can be finished with an even coating, making this type of pickling efficient for small objects, objects with complex shapes, and objects which require finishing of internal surfaces such as tubes. The bath can be diluted with water and its temperature adjusted to easily control the finish quality and processing time.
[Supplementary chemical products for pickling]
For brush application

We offer a degreasing agent specifically for stainless steel that reduces irregularities in the pickling process.

Post-processing chemical products

We offer an alkaline neutralizing agent that removes the pickling chemical product and allows its disposal.
Quality
When using the brush application method, the consistency of the pickling agent changes according to the temperature, causing slight variations in the resulting finish.
If the consistency is too low, the agent becomes more likely to drip and streak, and if the consistency is too high, it cannot be spread well, and these irregularities increase the chance of uneven finishing.
Due to these issues, we collect various data at the time of manufacture and organize that information towards maintaining manufacturing quality. We are making daily efforts to provide our customers with a stable supply of high-quality products.
Our Vision for the Future
While we currently manufacture and sell pickling agents for austenitic stainless steel, many other types of stainless steel exist for use in different applications.
We will continue working on improvements for quality stability and long-term protection offered by our current products, and in the near future we will begin development of pickling agents compatible with a diverse range of stainless steels.
We also want to challenge ourselves to develop pickling agents for different types of metal such as aluminum and titanium. We have established a Quality Assurance Division in the New Product Technology Development and Chemical Manufacturing Section where we will continue working towards providing products that are usable in various applications for different materials that satisfy our customers' needs.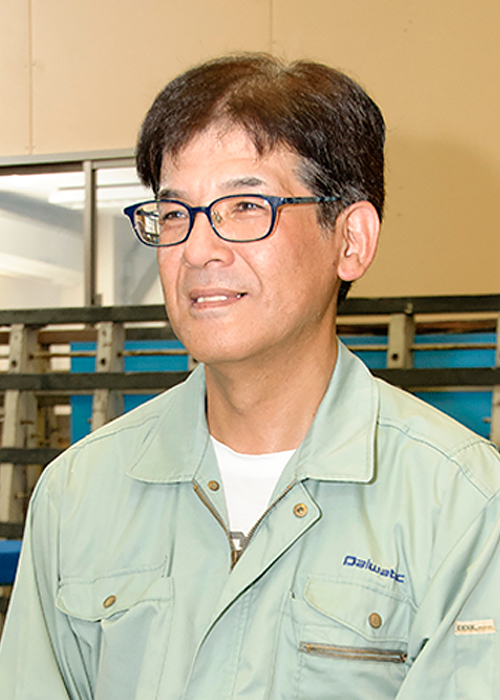 Electronics Glass Processing Section
We offer glass panel pattern etching and surfacing to customer specifications.
Our division left Daiwatec, Inc. in May 2008 to join the business operations of Climbing Co., Ltd. We have a solid track record of mass production, mainly providing etching for organic electroluminescent cap glass for use in portable phones and automobiles, as well as low-reflection glass for Shinkansen (bullet train) lighting systems.
Climbing has acquired ISO 9001 and 14001 certifications, and all the work we perform complies with ISO control methods.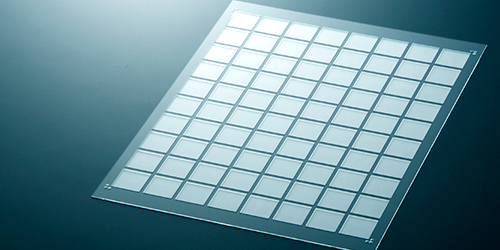 Mr. Watanabe, Industrial Glass Manager
Overview of Business Activities
The work performed in the Electronics Glass Processing Section can be broadly divided into two types.
The first is cap glass manufacture. These parts are used in liquid-crystal panels to sandwich the liquid-crystal layer that is the core component of the panel. The cap glass is etched so that the caps can form a seal around the liquid-crystal layer. The resulting products are used in automobiles as well as many other devices. We recently have begun efforts towards manufacturing electroluminescent lighting components.
The other type of work we do involves washing processes for glass volumeters and stainless steel products used in research applications.
When a liquid is placed into a glass volumeter for measurement, the liquid can react with its inner wall, resulting in the extraction of minuscule amounts of alkali content, which can affect measured volumes. When a liquid is placed into a glass volumeter for measurement, the liquid can react with its inner wall, resulting in the extraction of minuscule amounts of alkali content, which can affect measured volumes.
Characteristics of Industrial Glass
As our cap glass products are used in many domestic applications, we can deliver orders faster than those made overseas, and produce them in smaller lots as well. Furthermore, our proprietary etching liquids that we developed allows for the creation of sharp boundaries between processed and unprocessed surfaces.
Quality
The key to quality cap glass manufacture lies in the etching depth. Our customer's specifications are often measured at the micron-level. Even the slightest overage in etching depth will make the glass too thin, leading to structural integrity problems. Conversely, if the etching depth is too shallow, the seal around the liquid-crystal layer will be incomplete. We pour a great deal of attention and effort into ensuring etching depths match our customer's specifications exactly.
Our Vision for the Future
The Electronics Glass Processing Section will continue to innovate and manage operations using our etching liquids as described above. We hope to apply our knowledge and experience towards developing new glass washing and surface processing methods.