Miyama Workshop
Our dedicated glass volumeter factory boasts production volumes and quality technology unrivaled in Japan.
The factory at the Miyama Workshop stands alone as one of Japan's oldest and largest glass volumeter manufacturers. The workshop has almost 40 employees who are engaged in manufacturing and inspection work. In our unique, unified production system, we start with simple glass tubes, cutting and shaping them, and then finally print graduations on them. As a JIS (Japan Industrial Standard) JISR3505 (glass volumeter) certified factory, we have dedicated ourselves to maintaining quality in our work. The machinery we use is proprietary and cannot be found anywhere else. Our technicians and engineers have designed all of our equipment and are constantly coming up with new ideas and improvements to implement. Our staff work together closely in small groups to analyze and improve work processes and product quality.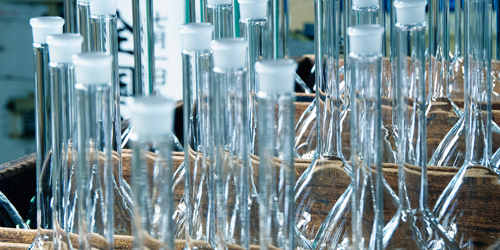 Mr. Yoshitake, Workshop Head Manager
Outline of Factory Operations
At the Miyama Workshop, we manufacture scientific glass volumeters. It is the core product of our operations.
Glass volumeters, as their name suggests, measure volumes of liquids, and they are used mainly for chemical analysis and experimentation, as well as in medical research. The graduations on each volumeter are not just simple markings for estimating volumes. These precise graduations are applied following strict JIS and ISO protocols.
The Miyama Workshop is one of a few facilities in Japan dedicated to the production of glass volumeters. In our highly-controlled, unified production environment, we transform base materials into finished products.
Our customers come from various companies and public institutions across Japan and use our products in a wide range of applications, including research and development activities and education.
The Working Environment at the Miyama Workshop
The Miyama Workshop is located in Miyama City in the south of Fukuoka Prefecture, which is known as the birthplace of Himiko, a legendary queen of ancient Japan. The small town has a relaxed and quiet atmosphere. Approximately 60% of the staff at our glass processing factory are women, which is rare in the glass processing industry.
Many have an image of a glass factory as being a hot, dirty place with a glass-melting furnace from which rugged men pull out molten glass on long tubes, which are then blown into shape. Actually, our factory has no such furnace, and our work is a little different from what people expect. We do not shape products from lumps of molten glass, but start with heat-resistant glass pipes. We melt and cut only the necessary parts to shape and produce our products. At first glance, it may appear to be just another parts factory.
There is also a traditional garden filled with moss and rocks on the workshop grounds, which gives employees opportunities to enjoy the scenery of the changing seasons as they go about their work. It is a bit of a chore to maintain, but we all think it is worth the effort!
All in all, our factory has the atmosphere of a quiet countryside workshop.
Features of the Miyama Workshop
As one of the few glass volumeter factories in Japan, we have developed on our own most of the automated machinery and equipment we use, and these original creations have demonstrated time and time again their usefulness and reliability.
Our recent developments include a volumetric flask graduation printer, which prints both graduations and their values in succession, and a pipette nozzle processor, which uses video cameras to automatically perform processing and inspection.
Since all of our work processes are managed as data, and our processing machines are numerically-controlled, we can achieve a very high level of consistency for each process.
Furthermore, we have designed a work environment with air conditioning and measures to reduce the amount of physical labor to make the factory as comfortable as possible for our employees. We are also proud of our in-house maintenance standards, and many of our machines have served us well beyond their initial expected service lives.
In terms of quality control, our factory has been JIS and ISO (quality and environment) certified, and we strive to maintain their standards throughout our operations.
A Focus on Quality
Can you imagine a chemical-based laboratory without any flasks or pipettes? Without any way to measure volumes of liquids accurately? It would make most chemistry work extremely difficult, if not impossible.
When you think of it that way, it becomes clear how essential and convenient volumeters are for our customers who carry out analytical and research activities. We take pride in being able to supply our customers with the tools they need, even in the smallest details in product quality they might not notice on a daily basis. We feel it is our mission to do everything we can to improve the quality of our products, even if it means developing new machines and methods.
Employee Activities and Community Involvement
Every Friday morning, all employees work together to clean up around our facility's grounds. Miyama City is in a beautiful, natural environment, but that also means extra care is needed to maintain quick-growing grass and trees and to keep our grounds free of debris and litter.
It is a real sight to see our workshop's traditional moss garden and the various trees surrounding it cleaned and in peak condition. While we clean, it is also gratifying to be able to greet students on their way to school and others in the community passing by.
Employees at our workshop are divided into 5 groups according to their various duties, and each group engages in various activities as well. Apart from these groups, there is also a quality control group which has its own activities, and a young employees group that holds study sessions and related events.
Our Vision for the Future
In recent years, companies in Japan that focus on production are facing stiff competition from overseas and a shrinking domestic market. Our industry has not been spared from these trends, with some companies facing bankruptcy and closures. Even a company such as ours, with its long history and record of performance, must remain vigilant in the face of progress.
Thanks to you, our customers, the Miyama Workshop has been able to stand out even in the company as a whole and continue relatively stable levels of production over the years. Even so, the manufacturing industry continues to gradually change, and we must continue to adapt to the latest trends.
We at the Miyama Workshop will continue to work hard to satisfy our customers by doing what we do best, creating high-quality products through innovations in machinery and strict quality control to take our craftsmanship to the next level and beyond. We wholeheartedly thank you, our customers, for your continued patronage and support.