Sales Office
Sales Section
Our customers use a variety of experimental and scientific equipment for applications that include environmental analysis, biotechnology, clinical laboratory food analysis, and organic and inorganic chemistry. Their equipment needs range from a single test tube to a full laboratory table. Climbing dedicates themselves to working with each and every customer to meet their specific needs. Our sales staff are responsible for making sure these needs are met. Almost all of our staff come from backgrounds in sciences and engineering. They are equipped with the expertise necessary to speak authoritatively with researchers from scientific and technical backgrounds. Our staff are always studying specialized knowledge surrounding our products and keep up with the latest trends in the industry. In this way, they can fully support the research and business activities of our customers.
The sales section handles orders for our own Climbing brand volumeters as well as a wide variety of analytical laboratory glassware. They also handle sales of non-glass scientific equipment and supplies. We at Climbing listen closely to our customers and work with our certified glass processing technicians in our factories to design and manufacture equipment optimized for their needs.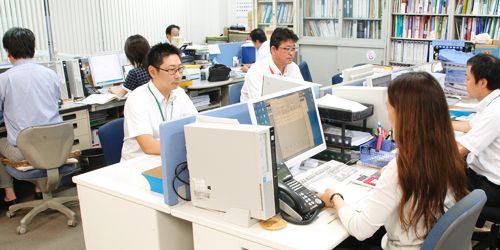 Business Customers
Our Sales Office handles sales of our own products as well as a diverse lineup of scientific equipment and supplies to business customers. 〔More〕
Product Section
The Product Section works to ensure customer orders are fulfilled to specification as quickly as possible.
The Product Section handles phone and fax orders received from customers, preparing packing slips and shipping out products. Products made at the Miyama and Chikugo workshops are shipped here, and then they are cataloged and stored. Our sales management systems use information-sharing to shorten delivery times from each workshop and our stocking systems are optimized for speedy, accurate delivery to our customers.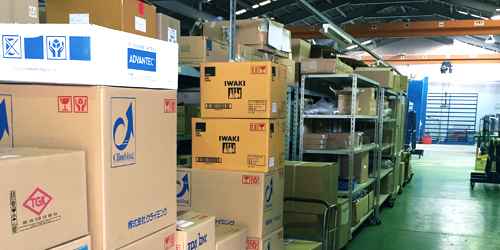 Mr. Shiraishi, Sales Office Manager
Outline of Sales Operations
We sell products such as glass equipment and analytical devices for use in research, analysis, and manufacturing. Our products are used by university researchers, institutes that carry out environmental analysis, pharmaceutical manufacturers, vaccine manufacturers, beverage producers, and others. Institutes that carry out environmental analysis use our glass equipment to measure levels of harmful substances in soil, air and water. Pharmaceutical manufacturers use our analytical products such as graduated volumetric flasks. Vaccine manufacturers use our glass equipment for culturing and storing influenza vaccines. In these ways, we contribute to the protection of the environment and support the creation of essential products such as drugs and vaccines.
The Working Environment at the Sales Office
The Sales Office has 6 members in the Sales Section and 4 members in the Product Section for a total of 10 members. They have all spent several years working at the company, and are all over 30 years old. They put their youthful energy to use to work as a team supporting each other to ensure the office is running at 100% efficiency at all times. The Sales Office staff also participates in many company-wide events. In recent years, company-sponsored activities have included relay races, softball tournaments, and oceanside festival competitions. In many of these events, Climbing employees have often taken first or second place. After long years of working together, the staff act as one, whether at the office or on the playing field. It is a real sight to see them in action.
What makes Climbing special?
While other scientific glass manufacturers often delegate certain processes to various companies, cooperating to make a single product, Climbing harnesses the talents in each of its workshops to finish products completely in-house without relying on outside companies. We are the only company in Japan that can offer this integrated production process. Our merging with a company with expertise in glass etching in July 2016 has even further increased the glass processing services we offer.
A Focus on Quality
To ensure customer satisfaction, we always maintain adequate stocks of our standardized products, and we provide guidance for our special-order equipment that takes into account customers' particular usage environments.
Employee Activities and Community Involvement
Our employees take part in community clean-up activities twice a month. It seems our activities have reverberated with other companies, as the number of companies participating in community clean-ups is increasing. You can really see a difference in the reduction of litter in the neighborhood.
Many of our employees share common interests such as golf and relay racing. They participate in regional events together, refreshing their minds and bodies.
One member of our team loves baseball, and he volunteers as an umpire for local children's and adult softball leagues.
Our Vision for the Future
We are the largest producer of glass volumeters in Japan. Our goal is to become the largest producer of scientific glass equipment in Japan as well.
Our sales staff have dedicated themselves to acquire the knowledge that ensures researchers and other scientists make our products their first choice every time. They each aim to be recognized as the best scientific glass salespeople in all of Japan.